Fantastic Lake Erie Walleye Fishing Charters!
Lake Erie is Well Known as "Walleye Capital of the World"! With fantastic spawns over the last few years, the Walleye population has exploded to an estimated 112 Million! So the Crown is not going away anytime soon! While the Western Basin gets most of the notoriety, the Eastern Basin equally good from June to September! For instance, on my Lake Erie Walleye Charters, limits are caught most days! We have a bunch of year classes out there ranging from 12-14″ fish to 5-8# pounders with a real shot at a 10#+ Monster trophy Walleye! But I mainly target the best eating size 17″ to 24″ walleye that are in the 2 to 4 pound range.
We do what ever it takes to make it a fun day loading the boat with these great eating Walleye! Whether it's drifting live bait or bottom bouncing spinners over structure. Then open water trolling with planer boards, leadcore line, divers or downriggers, It can be your choice! I have a lot of guys that like the rod in hand feeling of the Walleye eating their bait, set the hook and reel in their own fish! This is usually an early morning bite and can get turned off if there are a lot of boats over the structure then we can run to other spots or break out the trolling gear! Fish Cleaning is Included!
Want to Catch Walleyes Like These?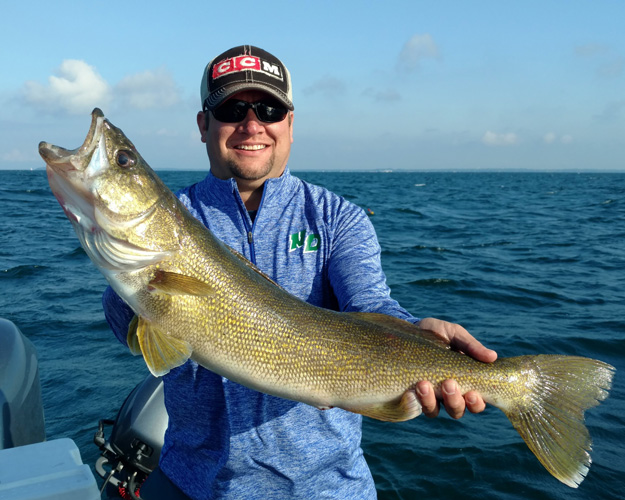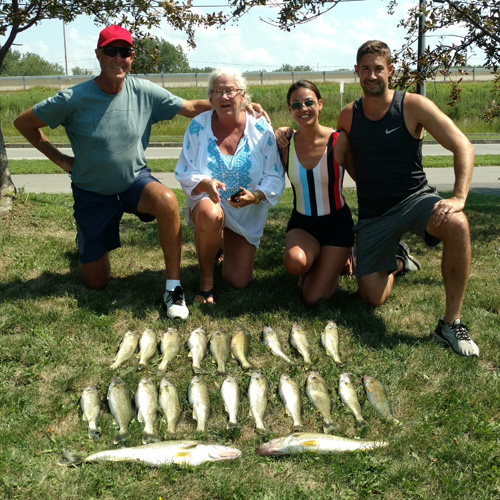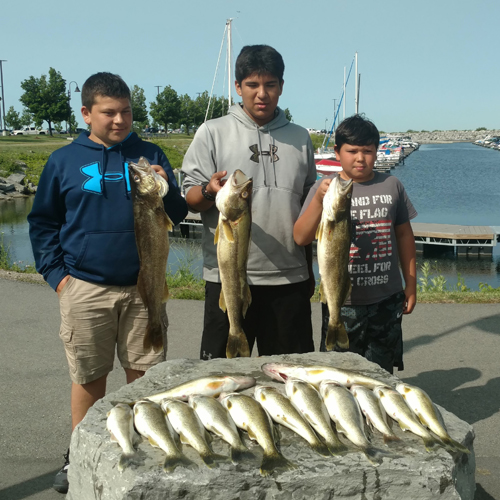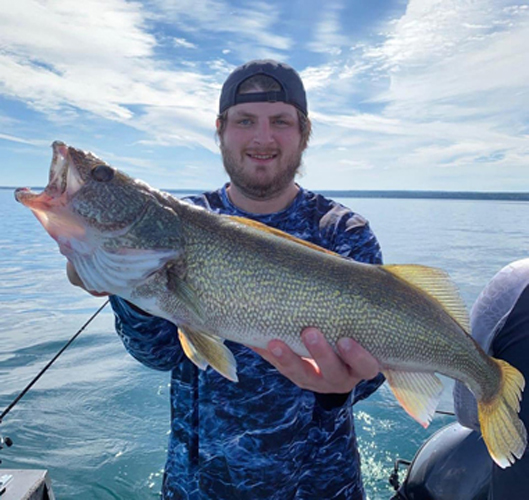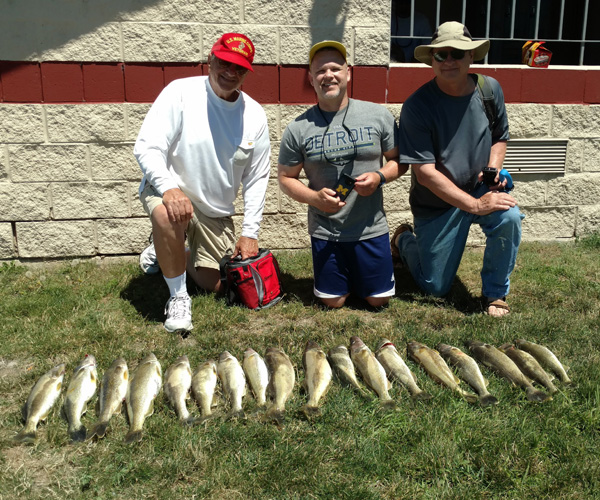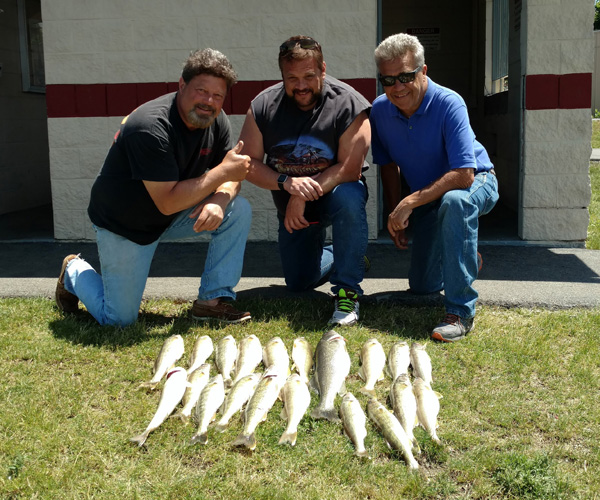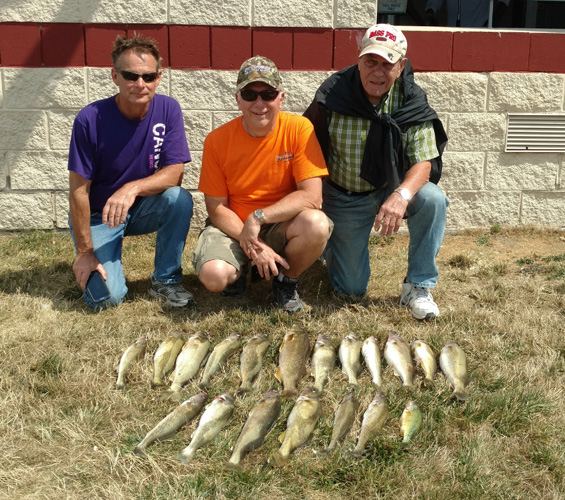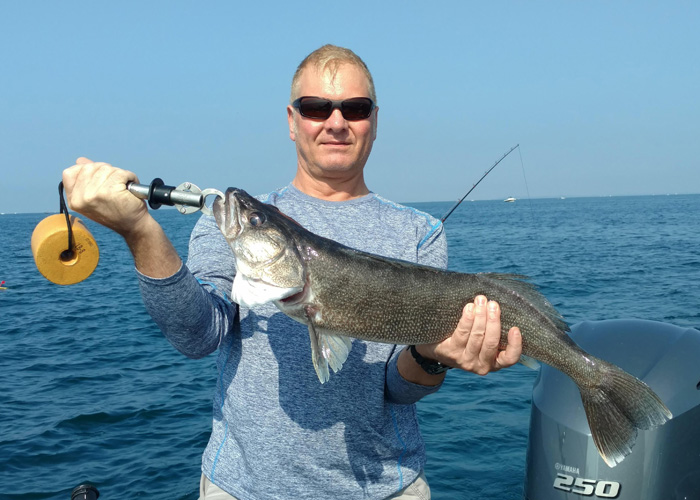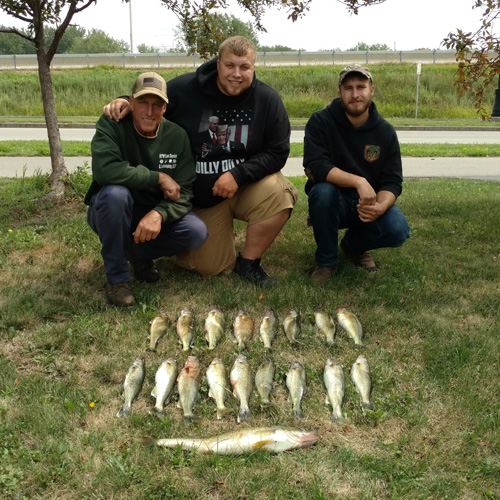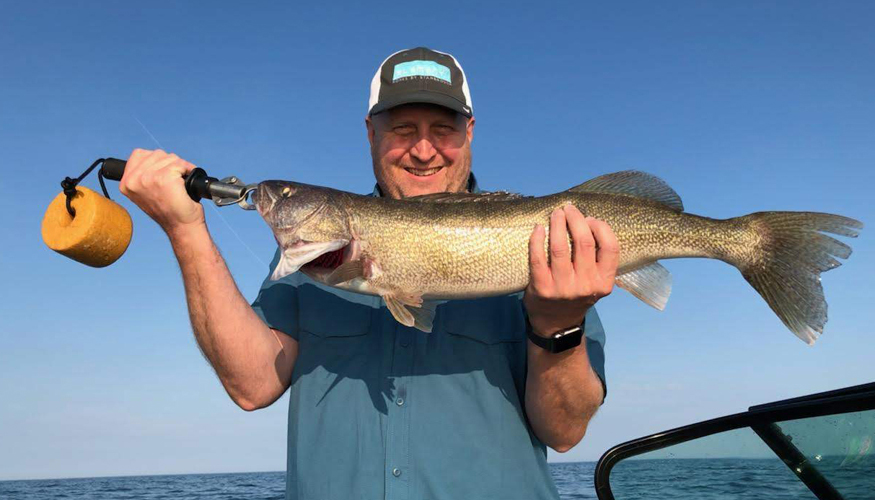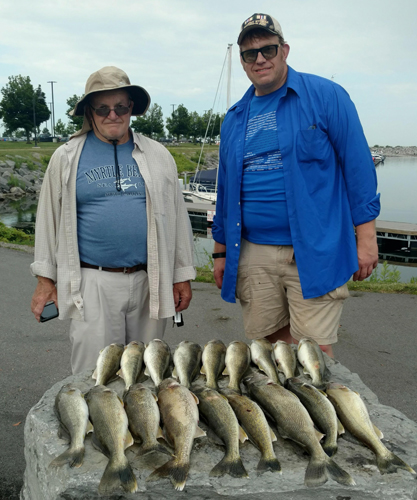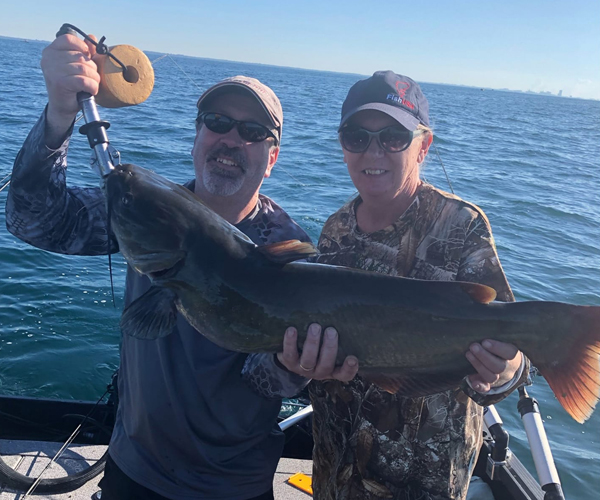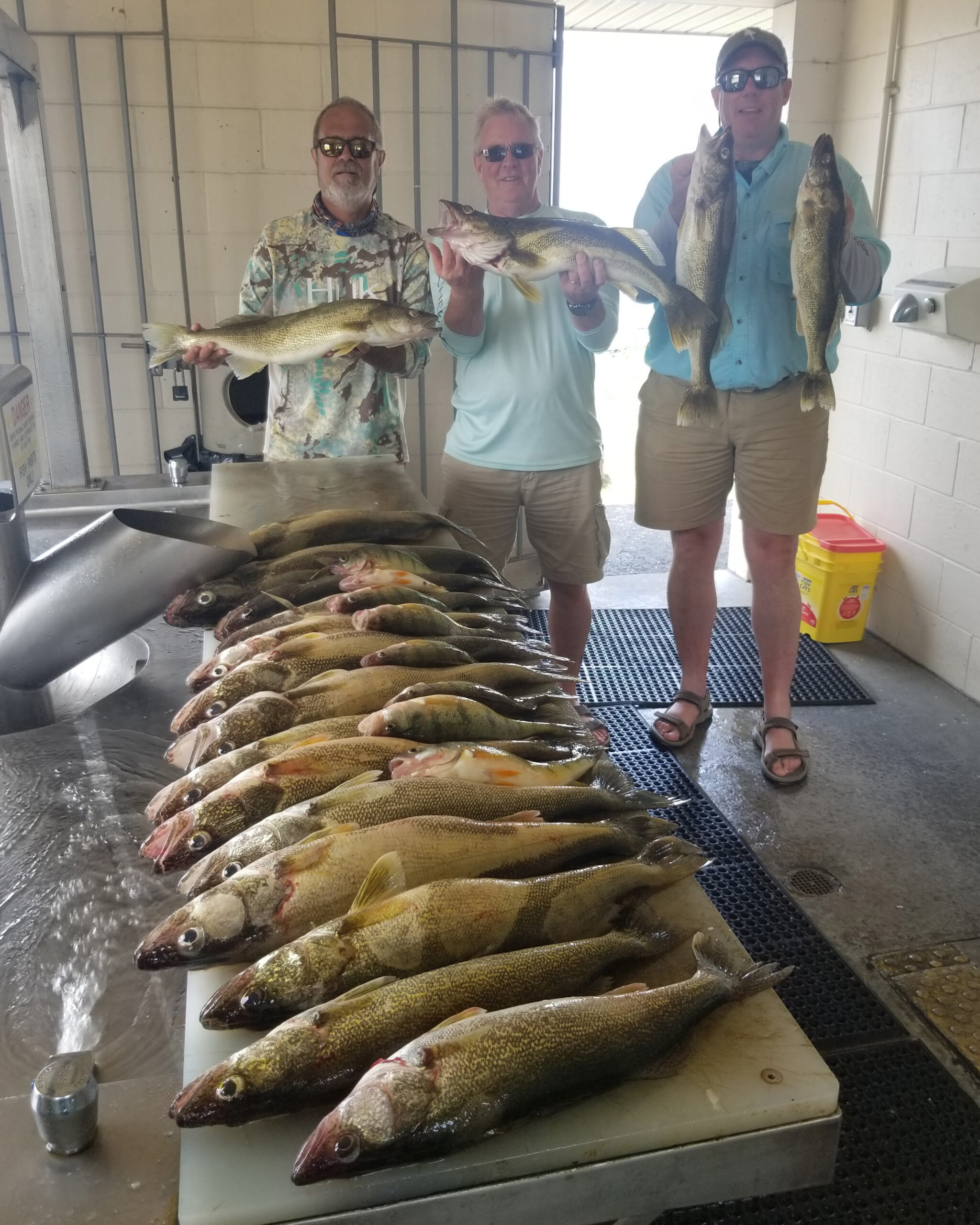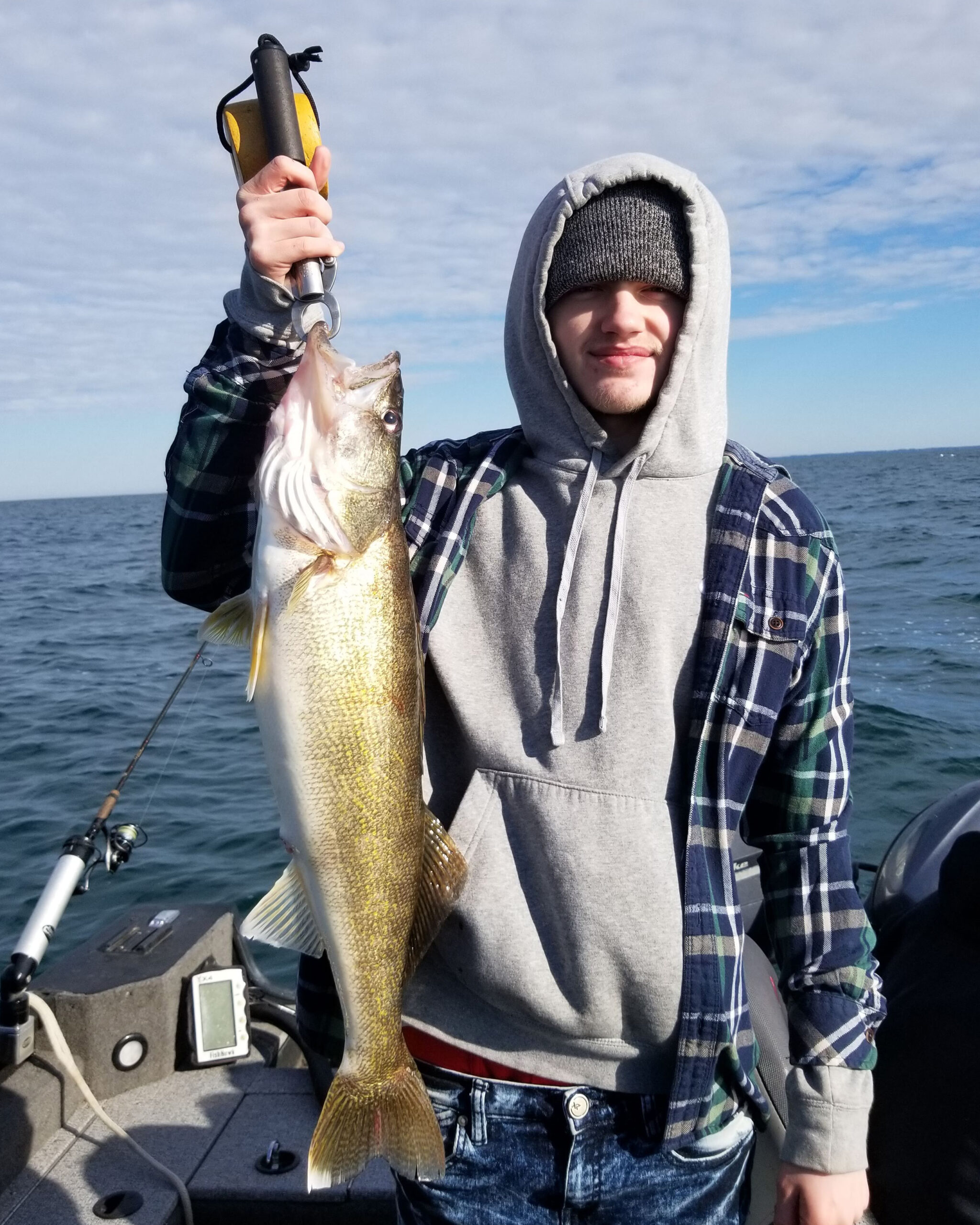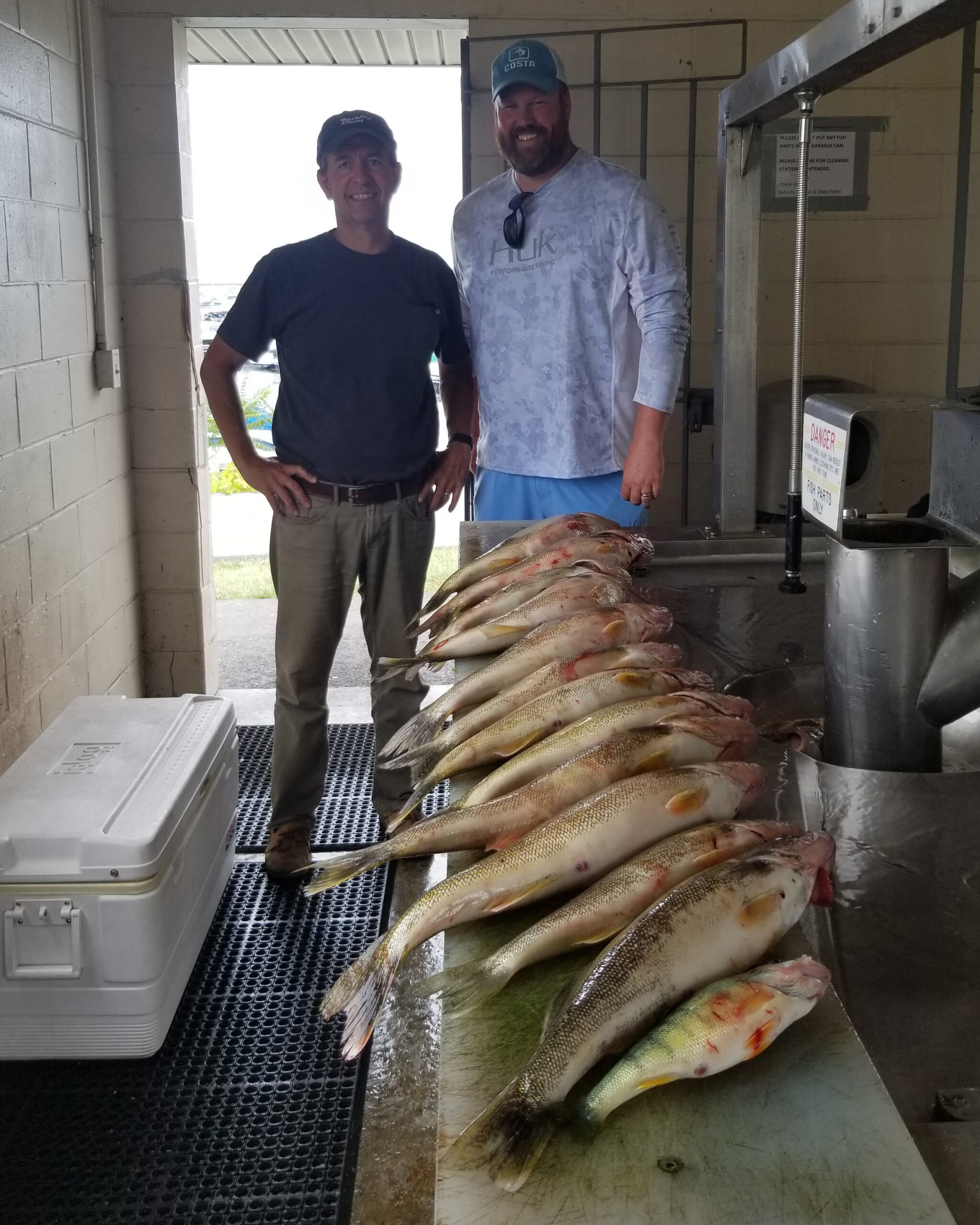 You Will With Schultz Sportfishing! Give Us a Call Today!
Lake Erie Yellow Perch Trips
I also offer Yellow Perch fishing trips in April into early May and again in the fall. Yellow Perch provide fast action and lots of fun averaging 10″ to 13″ at about 1 to 1 1/4 pounds! However, some Giants going to 15″ and over 2 pounds are caught occasionally! Yellow Perch are great eating fish that rival the Walleye as the Best Eating Freshwater Fish! These Trips are You bring a Cooler to take home to Clean as most days are 100+ fish! Fish Cleaning is Not Included On Yellow Perch Trips!
Summer Smallmouth Bass/ Walleye Combo Trips
The summer Smallmouth Bass fishing is even better for those who want numbers of fish! Subsequently, lots of action on 2-3# Smallies with a few 4 pounders and the occasional 5 # Monster mixed in. Therefore, this is a great time to bring kids or novice anglers to make sure they stay busy learning to how to catch lots of excellent fighters where 30-50 fish days are common! Secondly, these trips can be combined with a Lake Erie Walleye Charters for an all around great day on the water!
Local Boat Launches
I normally Launch out of the Buffalo NFTA Small Boat Harbor most of the time. But, occasionally go out of ; Erie Basin Marina (Buffalo), Sturgeon Point, Silver Creek (Cattaraugus) or Dunkirk. All depending on conditions or where the big school of Walleye is, mobility is essential!
Local Lodging
Econo Lodge 4344 Milestrip Rd Blasdell (716) 507-8146
La Quinta Inn 2500 Hamburg Turnpike, Lackawanna (716) 821-0030
Red Carpet Inn 3140 Southwestern Blvd, Orchard Park (716) 649-5890
Red Roof Inn 5370 Camp Rd, Hamburg (716) 648-7222
Super 8, 1288 Sheridan Drive, Kenmore (716) 235-1330
Budget Inn 1080 Sheridan Drive, Tonawanda (716) 873-8197