Niagara River Fishing Charters With Schultz Sportfishing
Come enjoy the scenic beauty of the mighty Niagara River! Where you can enjoy an adventurous day catching a wide variety of fish! Just about Every Fish that swims is in the Niagara River at one time or another, whether it lives here or during it's spawning runs! Consequently, you never know what you will catch next! Depending on the time of year, Schultz Sportfishing offers Niagara River Fishing charters for Smallmouth Bass, Walleye, Steelhead, Salmon, Lake Trout & Brown Trout. out of Lewiston, NY.
The Niagara River is World's Best Year Round Multispecies Fishing!
Do You Want To Catch Fish Like These?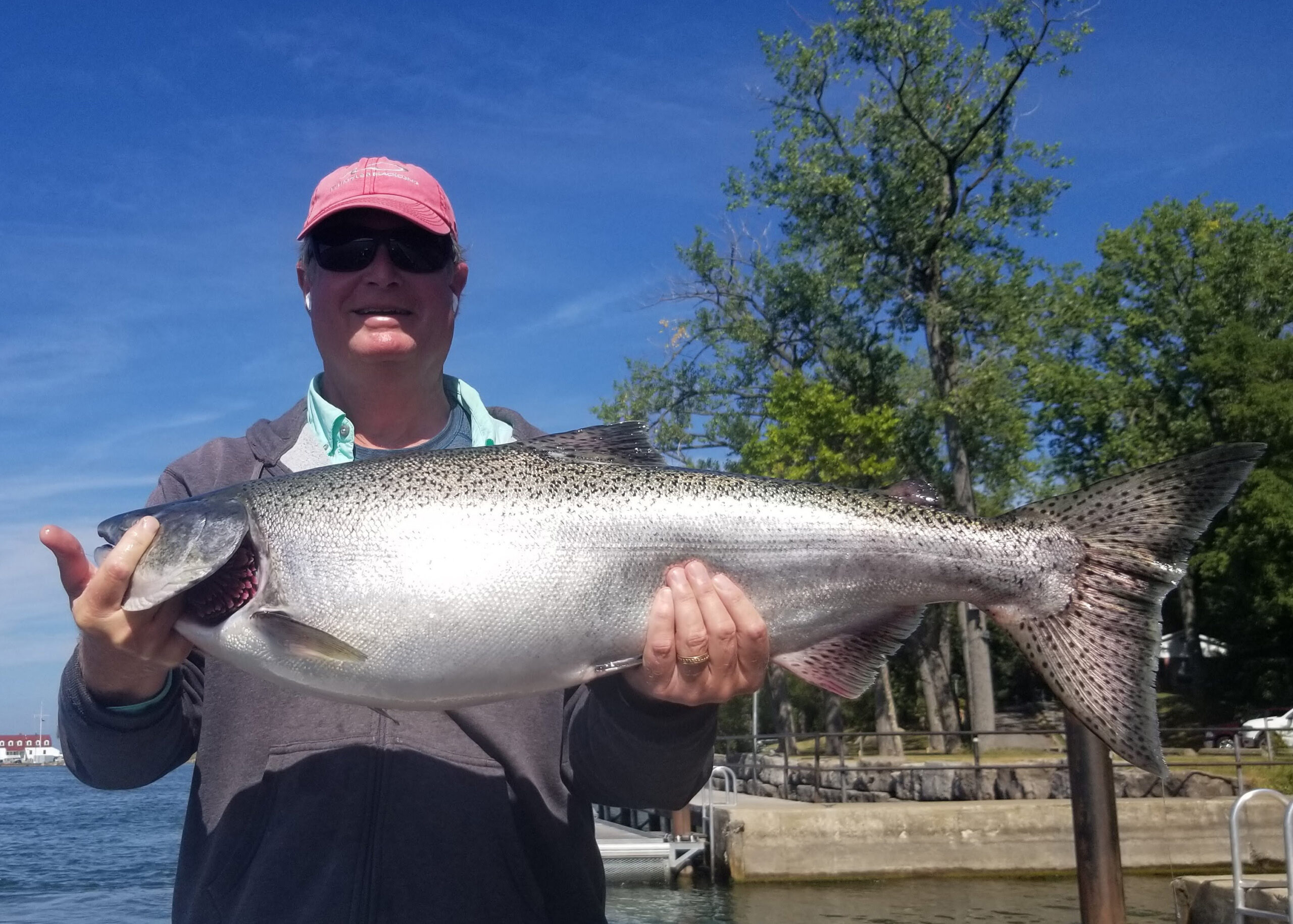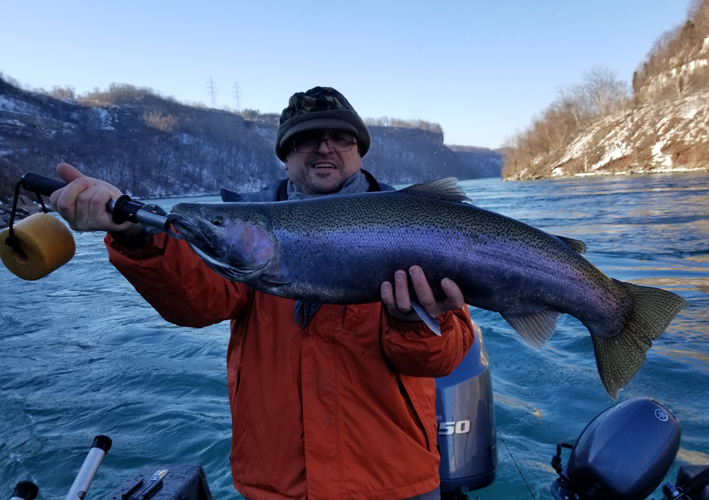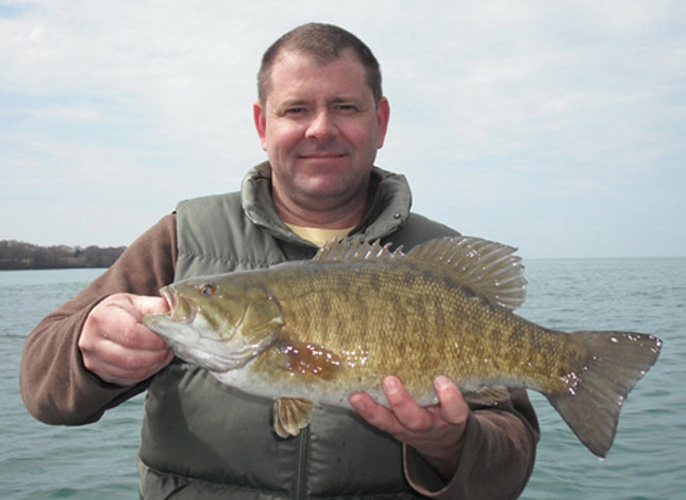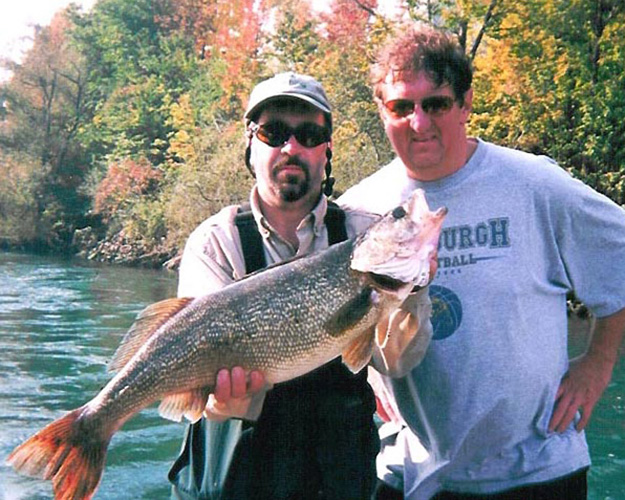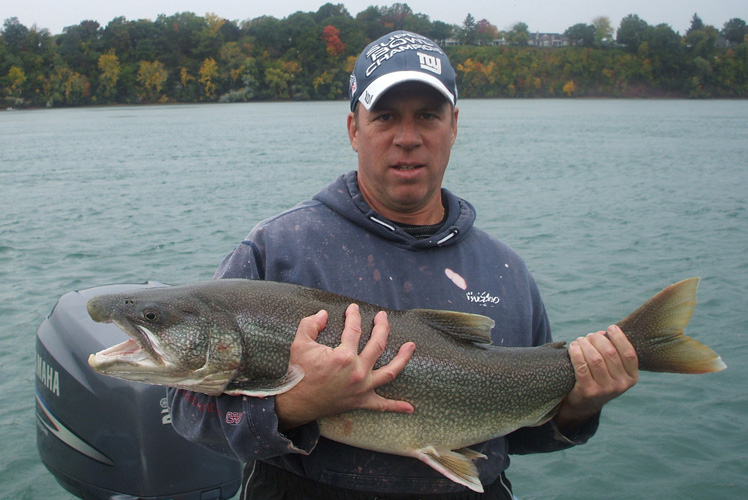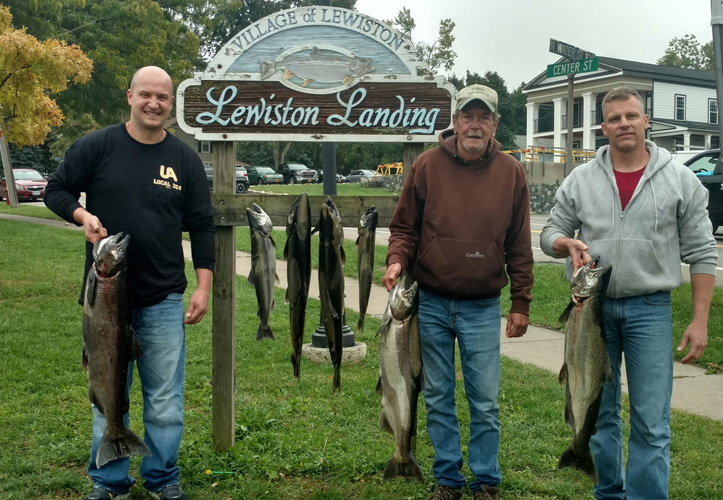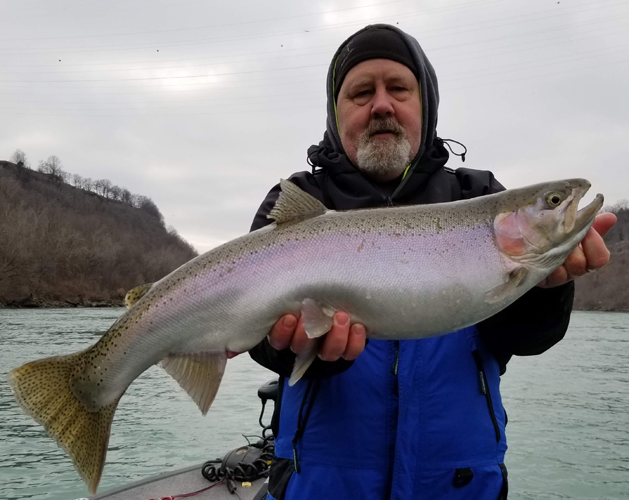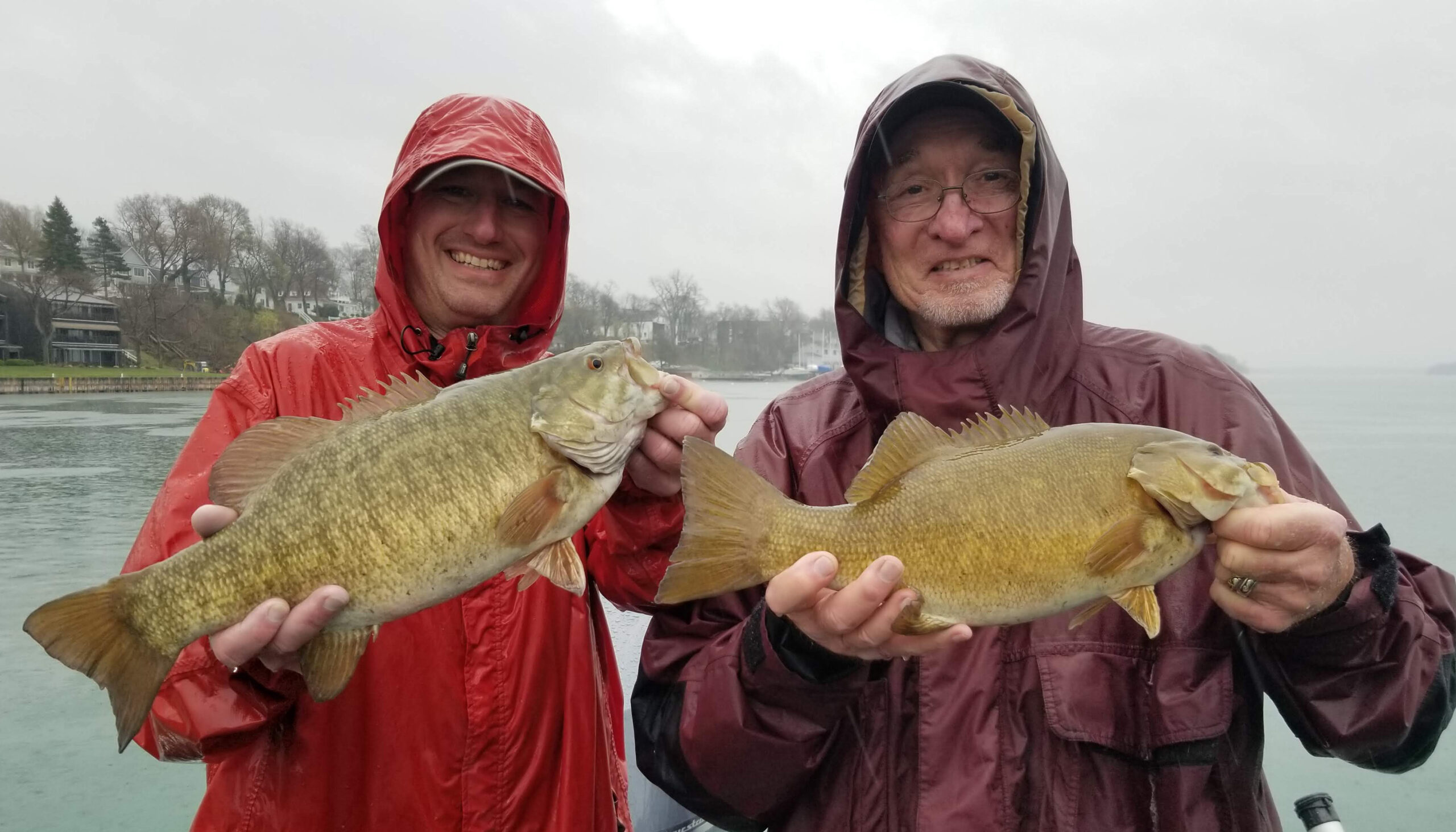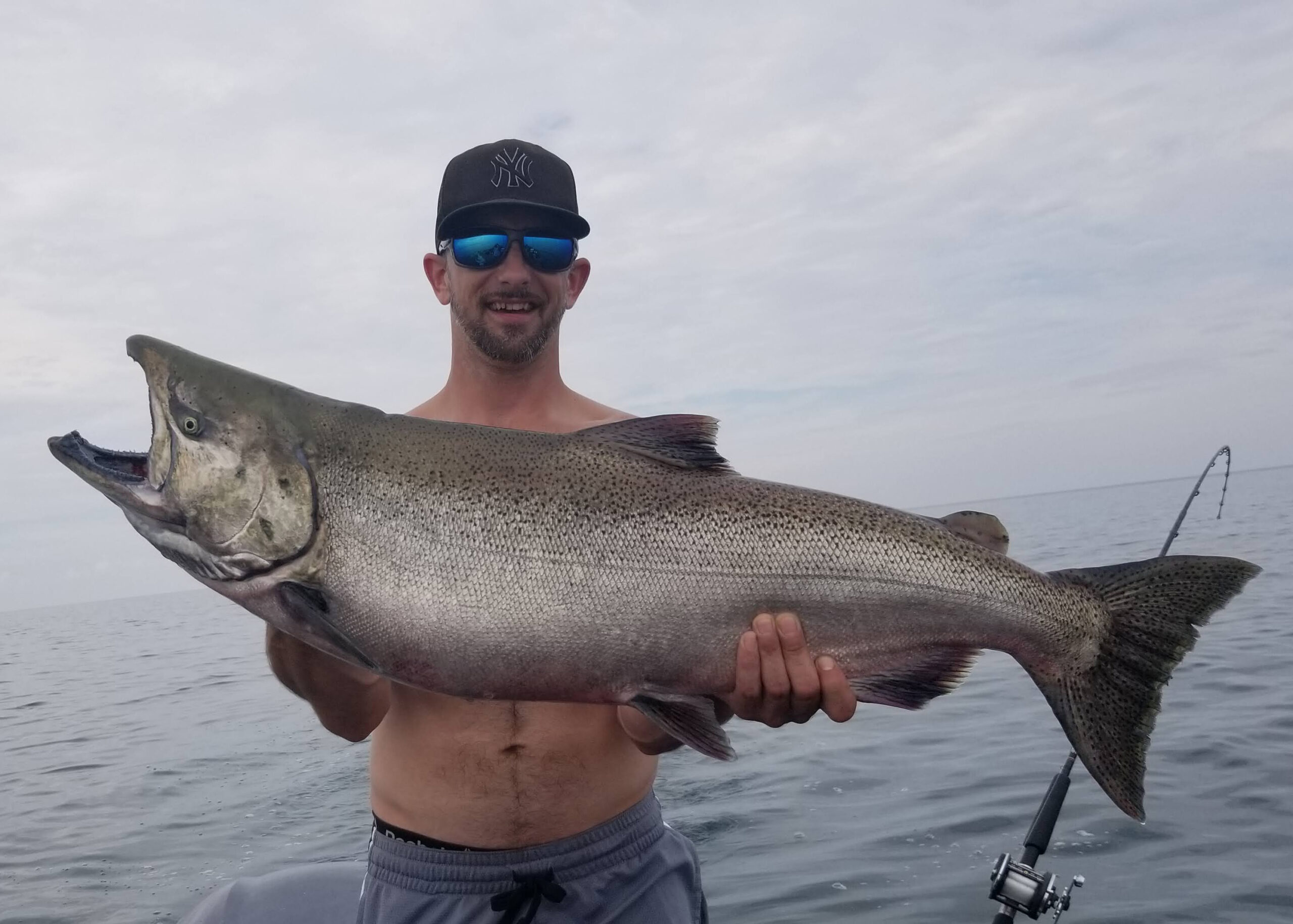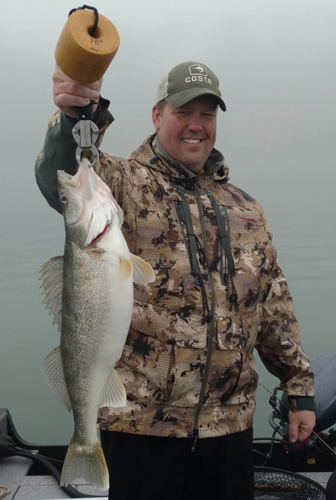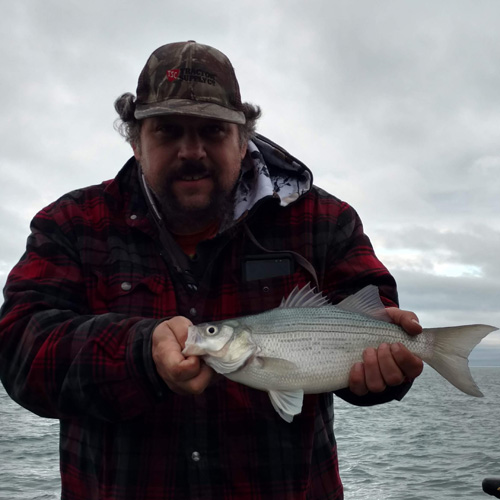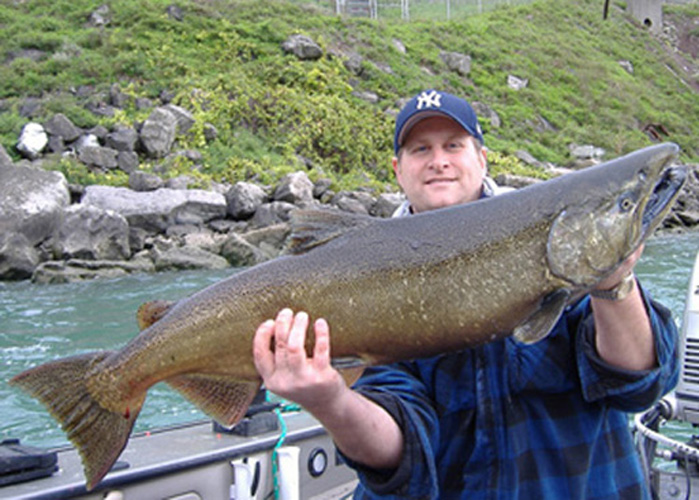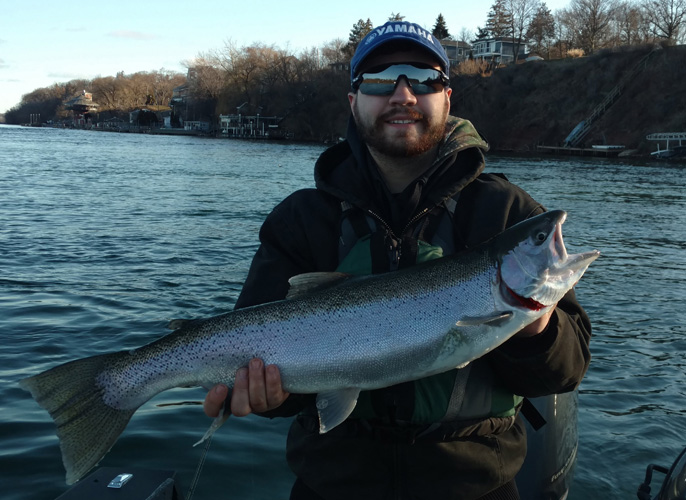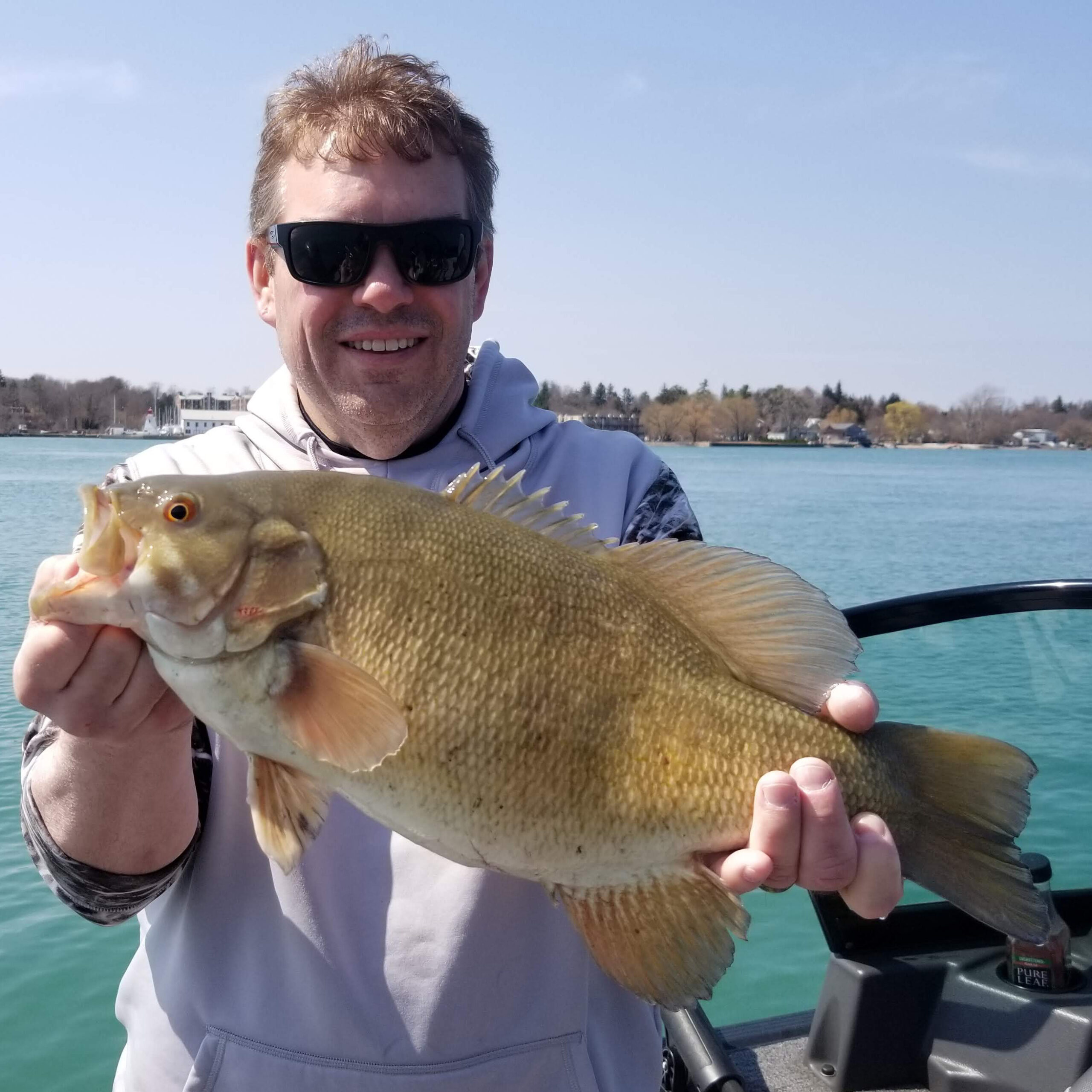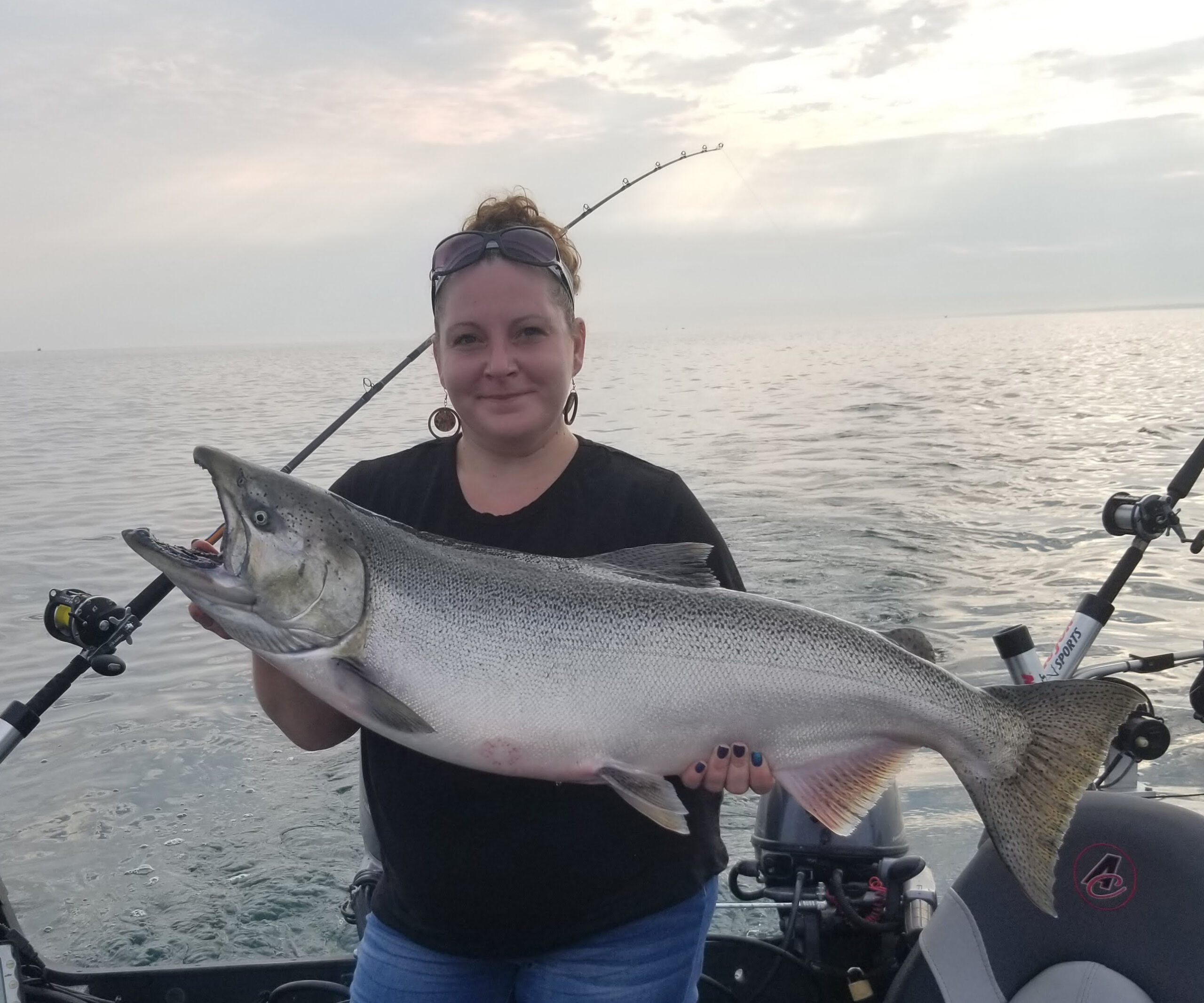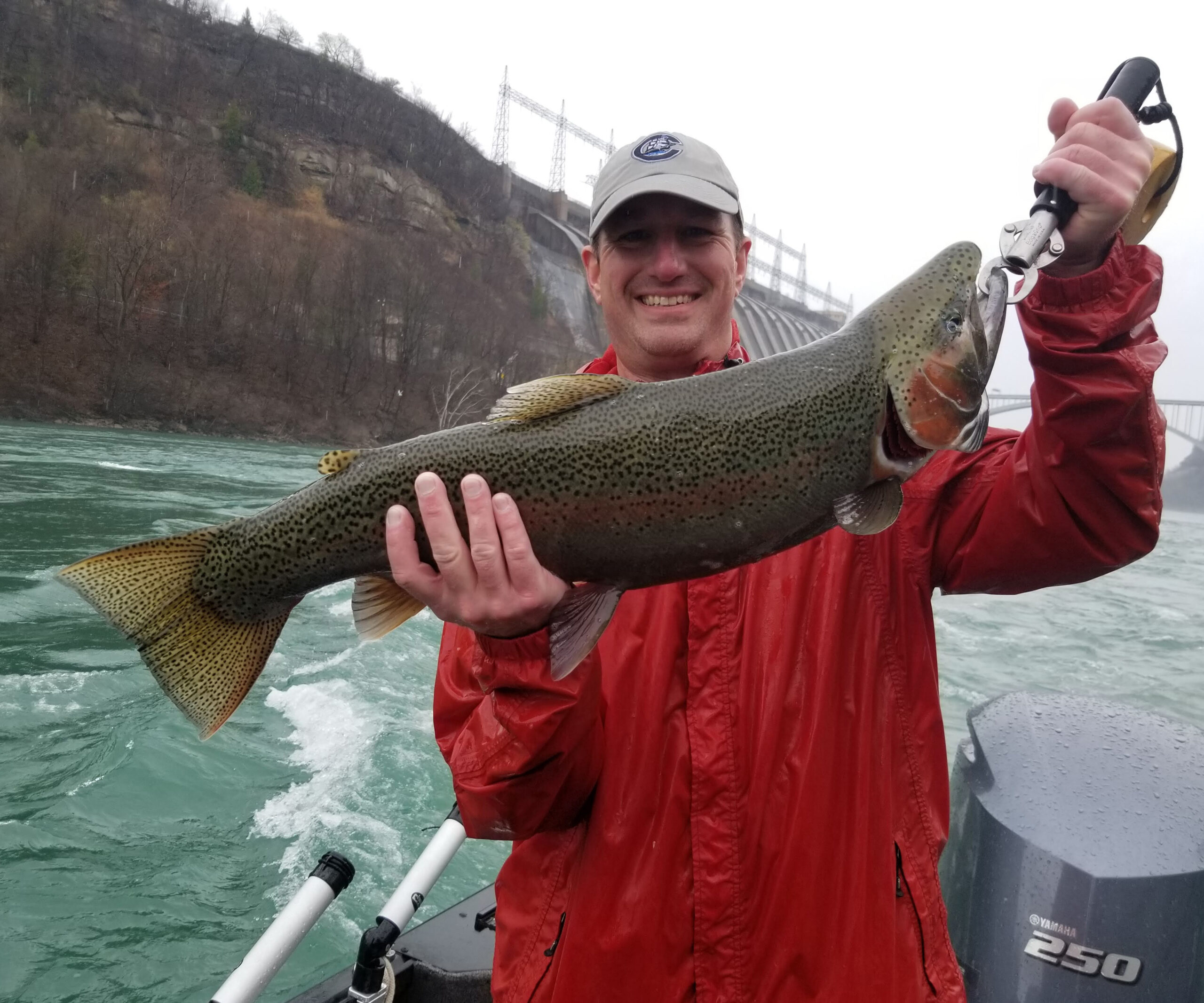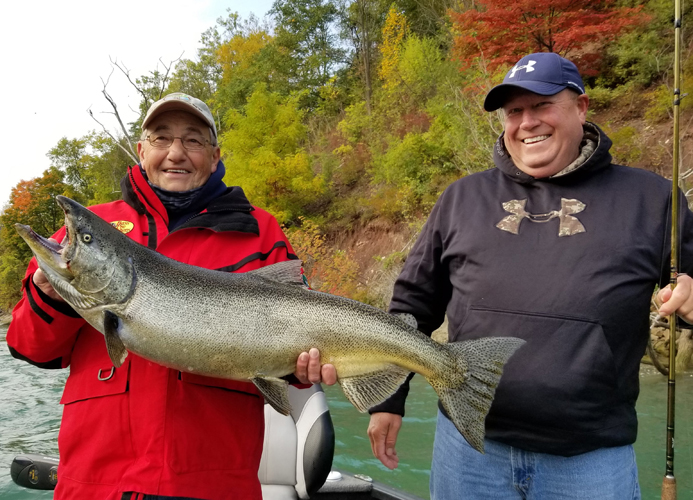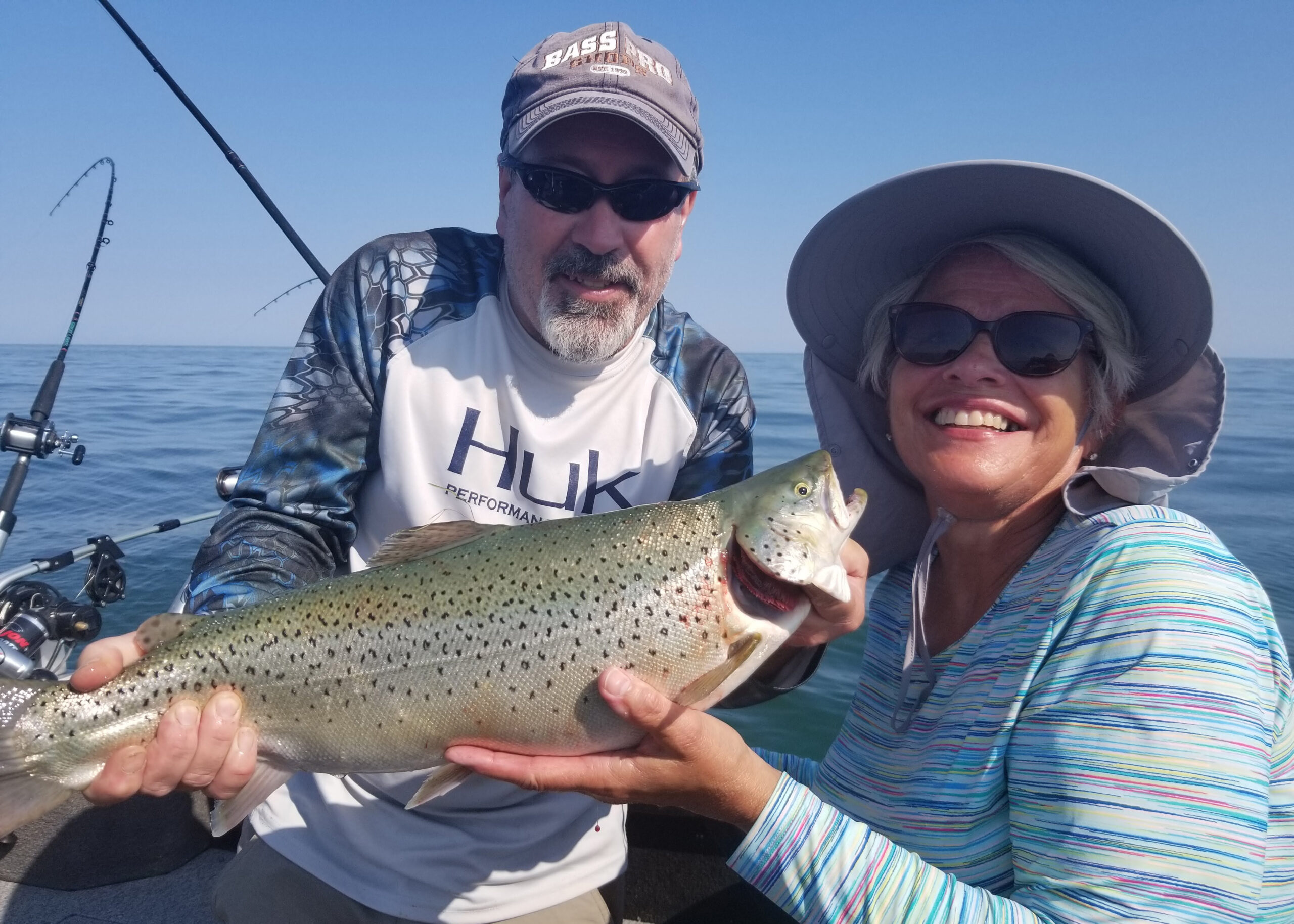 You Will With Schultz Sportfishing!

Book Your Trip Today!
Fall Niagara River Charters are Salmon Time!
Chinook Salmon come up the Niagara River on their annual spawning runs beginning in mid September through late October. Thousands of 15 to 25 pound King Salmon come up the Niagara River to complete this annual spawning run. Therefore, We fish the famed "Devil's Hole" where most of action takes place. We fish for these Kings of all Fresh Water Game Fish by "Hands On" Drifting Salmon Skien, Egg Sacs or Kwickfish. In short, You are presenting your bait, feeling the bite, setting the hook and reeling in your fish until I net it for you!
A typical day is landing 4 to 7 Kings with 10 to 12 hook ups a day common with some better days when the conditions are right. We'll show you how to catch these screaming drag burning Salmon but, the hard part is getting these brawlers into the boat. Between their size and the Niagara River's strong current, certainly you'll have your hands full trying to land them!
Once you tangle with these Big Boys, you'll be the one hooked! With many fish surpassing 20 pounds, surely your arms will be tired at days end and aching to come back for more!
Winter Fishing Charters on the Niagara River!
About end of October Brown Trout and Lake Trout start to show up on the Niagara River for their spawning runs. In addition, Steelhead begin to file into the Niagara River as well. They are All there to reproduce then stuff themselves on Salmon eggs and the plentiful bait fish. Runs of Steelies in the 5-10 pound average range with a few bigger Monsters come up the Niagara River all winter long. That is to say, the Steelhead hang around throughout the river from Devils hole out to the Niagara Bar! Meanwhile, in March & April, we get another big influx of Steelhead as they make their spawning run.
We fish mainly by drifting a variety of baits from Shiners, Egg Sacs, Beads to Kwickfish off 3 way rigs. Limit catches of Steelhead & Trout are the norm on most days but, I again try to promote Catch & Release at this time. I recommend dressing warm and in layers while giving this trip a try! But if you can handle some cold weather, you won't be disappointed by the Hot fishing!
While some Lake Trout & Brown Trout remain throughout the winter in the Niagara River after spawning. However, most drop back to the river's mouth and the Niagara Bar where the fishing can be Fantastic!
While it's not a numbers Walleye fishery like Lake Erie, but its a fragile quality fishery. You won't catch a bunch of Walleyes, but there's a good chance it will be a Trophy Walleye of a Lifetime. 8 to 12 pounds that are caught fairly regularly in December to March! We practice Catch & Release on All of these Monster Walleyes!
Fantastic Spring Fishing on the Niagara River, Niagara Bar & Lake Ontario!
There's not many places in the World where the Fishing is as Fantastic as it is on the Niagara River and Niagara Bar in the Spring! Where we catch a everything that swims at this time as it coincides with warming weather and spawning runs of Steelhead, Walleye, Smallmouth Bass, Silver Bass. Secondly, Baitfish (Smelt, Alewives & Emerald Shiners) are also spawning which is what draws everything else to the Niagara River and Niagara Bar!

At this time of year, we fish the whole Niagara River from Devil's Hole all the way out to Lake Ontario where it forms the Niagara Bar! We use a variety of technics now, depending on what fish we are targeting. For instance, could be everything from drifting live bait, egg sacs, beads, Kwickfish to using Blade Baits, Swimbaits, Tube Jigs, Drop Shot rigs and Jigging Spoons! Versatility is the Key to being Successful!

Come enjoy some of the Best Fishing in the Country in March, April, & May! Consequently, we will catch a mixed bag of Steelhead, Walleye, Smallmouth Bass, Lake Trout, Brown Trout, Silver Bass, Yellow Perch, Sheepshead and maybe a Big Catfish or Musky!
Awesome Summer Fishing on the Niagara River, Niagara Bar & Lake Ontario!
The summer Smallmouth Bass fishing on the Niagara River & Niagara Bar rivals anywhere for numbers of these feisty fighters. Where 30-50 fish days on 1-2 pound Smallies are common with a few 3-4+ pounders mixed in! Above all, it's great time to take Kids out or if you just like to catch lots of fish!
I also offer small party 2-3 person Salmon, Steelhead & Trout Trolling Charters on the Niagara Bar and Lake Ontario can be a fish catching charter or a hands on learning experience! These trips are a lot of fun catching drag screaming King Salmon, leaping Steelhead or hard pulling Lake Trout! All of this fishing is open water trolling with Downriggers, Dipsey Divers, Leadcore & Wire Line of planer boards.
I trailer my boat and fish out of a variety of ports. Depending on the time of the year, weather and where the fish are; Fort Niagara (Niagara Bar), Wilson, Olcott and Point Breeze.
Drop a Line with Schultz Sportfishing, You'll be Hooked!
Local Lodging
Artpark Hotel Inn, 280 Portage Road, Lewiston (716) 754-8295
Riverside Motel, 160 South Water Street, Lewiston (716) 754-4101
Niagara Crossing Hotel & Spa, 100 Center Street, Lewiston (716) 754-9070
Seneca Niagara Resort & Casino, 310 4th Street, Niagara Falls, (716) 873-6322
Niagara River & Lake Ontario Launches
Lewiston Landing
Fort Niagara
Wilson Tuscarora State Park
Olcott – Newfane Town Marina
Point Breeze